Milkweed butterflies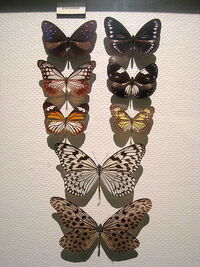 | | |
| --- | --- |
| Distribution | worldwide |
| Number of Species | 300 |
| Genera Number | Unknown |
| Alternative Names | Danaidae |
| Regional Names | (斑蝶亞科) |
Milkweed butterflies are a subfamily, Danainae, in the family Nymphalidae, or brush-footed butterflies. They lay their eggs on various milkweeds on which their larvae (caterpillars) feed. Before, this group had been considered a separate family, Danaidae, and the tribes placed here were sometimes considered subfamilies in the Nymphalidae.
There are some 300 species of Danainae worldwide. Most of the Danaini are found in tropical Asia and Africa, while the Ithomiini are diverse in the Neotropics. Tellervini are restricted to Australia and the Oriental region. Four species are found in North America: the Monarch Butterfly (Danaus plexippus); the Queen (Danaus gilippus); the Tropical Milkweed Butterfly (Lycorea cleobaea); and the Soldier Butterfly (or "Tropic Queen"; Danaus eresimus).
The best known member of this family is the Monarch butterfly. The larvae and the butterflies retain poisonous glycosides from their larval host plant, the milkweed, so they become distasteful to potential predators. These milkweed butterflies (Monarch, Queen, Soldier) eat only milkweeds (Asclepias) as larvae. This highly effective defense strategy shields them against almost all predators that soon learn to avoid these species after attempting to eat them.
Another member known especially for its presence in butterfly greenhouses and live butterfly expositions is the Southeast Asian Idea leuconoe.
The fossil milkweed butterfly Archaeolycorea is known from the Oligocene or Miocene Tremembé Formation of Brazil. It often assigned to tribe Danaini, specifically subtribe Euploeina, but this may not be correct. In any case, it provides evidence that the present family originated more than 20-30 million years ago.
Subtribe Danaina Boisduval, [1833]
Subtribus Euploeina Moore, [1880]
The fossil milkweed butterfly Archaeolycorea from the Oligocene or Miocene Tremembé Formation of Brazil is often assigned to this tribe, specifically the Euploeina. Whether this is correct is not entirely certain.
Tribe Ithomiini Godman & Salvin, 1879