Chestnut Tiger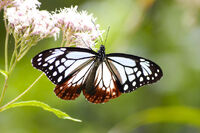 | | |
| --- | --- |
| Distribution | Himalayas and into the Malayan region |
| Size | 80~100mm |
| Alternative Names | |
| Regional Names | (アサギマダラ asagimadara)(大絹斑蝶) |
The Chestnut Tiger (Parantica sita) is a butterfly found in Asia that belongs to the Crows and Tigers, that is, the Danaid group of the Brush-footed butterflies family.
life cycle
Edit
On emergence a dirty white colour with transverse lines on each segment, two somewhat long and thin tentacles or processes on the third, and two shorter ones on the twelfth segment. When full-fed the larva is about an inch and a half long, the ground-colour is of a pale yellowish green, with two rows of dorsal and a row on each side of lateral yellow spots, the head is black with grey spots on the face, the legs black.
The pupa is pale emerald-green with golden-yellow spots.the adult emerges the next April
foodplants
Edit
The larval foodplants include Asclepias, Cynanchum, Heterostemma, Hoya, Marsdenia, Metaplexis, Stephanotis and Tylophora.
subspecies
Edit
P. s. ethologa (Swinhoe, 1899).
P. s. melanosticta Morishita, 1994.
P. s. niphonica (Moore, 1883)
P. s. oblita (Tsukada & Nishiyama, 1979)
P. s. sita
P. s. tytia (Gray, 1846)
it is mimicked by
similar species
Edit